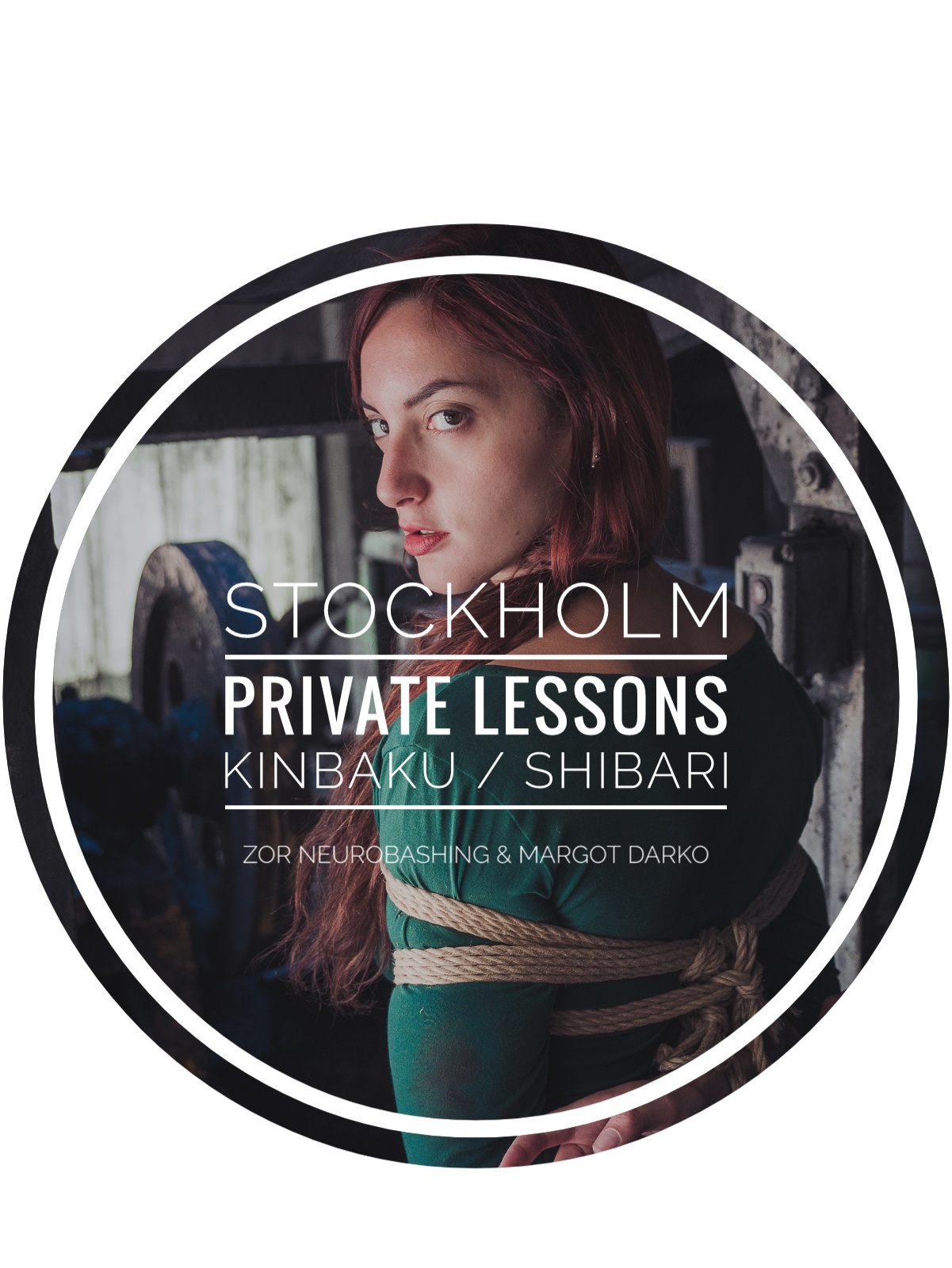 Detalles del evento
martes | 25 agosto, 2020 a viernes | 28 agosto, 2020
09:00 - 22:00
Contact us through e-mail or Telegram for further details
+34 616741603 or +651115095
Pairs

Asistentes

Zor Neurobashing & Margout Darko

Formadores
During our stay in Stockholm, we will be available to offer private tuition in kinbaku. With a completely personalized treatment, an exhaustive follow-up, the most absolute privacy and 100% of our attention put on your progress, it is really easy to advance quickly. Private lessons can be given in a group of two couples that have a very similar level to reduce the cost.
– Availability from 25th to 28 of August 2020.
– We offer training for all levels, from beginners to advanced.
– We have the possibility to adapt to specific schedules.
– We have our own space at the city centre with a bamboo suspension point and soft floor.
– We will try to keep a safe distance and will have at your disposal hydroalcoholic gel.
– It is necessary to come in a pair.
– Total privacy and completely personalized attention is guaranteed.
– There will be water, tea and snacks at your disposal.
For reservations and inquiries about dates and/or prices please write to info@madridshibari.com or contact us by Telegram or Whatsapp at +34 616741603 or +34 651115095
---
Zor Neurobashing has been learning shibari since 2005. He has studied with Norio Sugiura, Haruki Yukimura, Akira Naka, Kazami Ranki, Kasumi Hourai, Osada Steve, Ren Yagami, Riccardo Wildties, among other trainers. He has worked as a rigger for adult film production companies on many occasions, such as Kink.com, Public Disgrace, DDF, house of Taboo or Eroteric, among others. He is co-founder of Madrid Peer Rope and founder of Madrid Shibari (https://www.madridshibari.com/). He has extensive experience as an educator, not only in Shibari, and has been a presenter several times at the Eurix in Berlin, at Prague Shibari Festival and at Kink&Ropes festival in Stuttgart. He has offered workshops in different European countries in both Spanish and English on: kuzushi, creativity, aesthetics, safety, beginners, model-rigger communication, partial suspensions, suspension, takate kote, shibari photography and sex-oriented bondage and adult video recording. His personal style has been defined on many occasions as Kuzushi Shibari and is oriented towards creativity, improvisation and asymmetry.
Margout Darko is a rope model and rigger and has been in love with kinbaku since 2014. She has been working for years as an erotic and fetish model and has a solid background and knowledge in consent and BDSM practices. She believes that what makes a good model is having a good understanding of their limitations and needs, empathy, a good ability to communicate with their rigger and a desire to open up, surrender and tell their own story. In 2019 she was a model in one of Sugiura Norio's sets in Copenhagen. She has participated as a model in workshops and private classes of, among others, Riccardo Wildties, Kasumi Hourai, Kazami Ranki and Yagami Ren and has taught in various workshops in Berlin, Stuttgart and Prague. She feels a special interest in classical styles that seek to generate an intense emotional and erotic exchange, especially Naka Ryu and Yumikura Ryu.