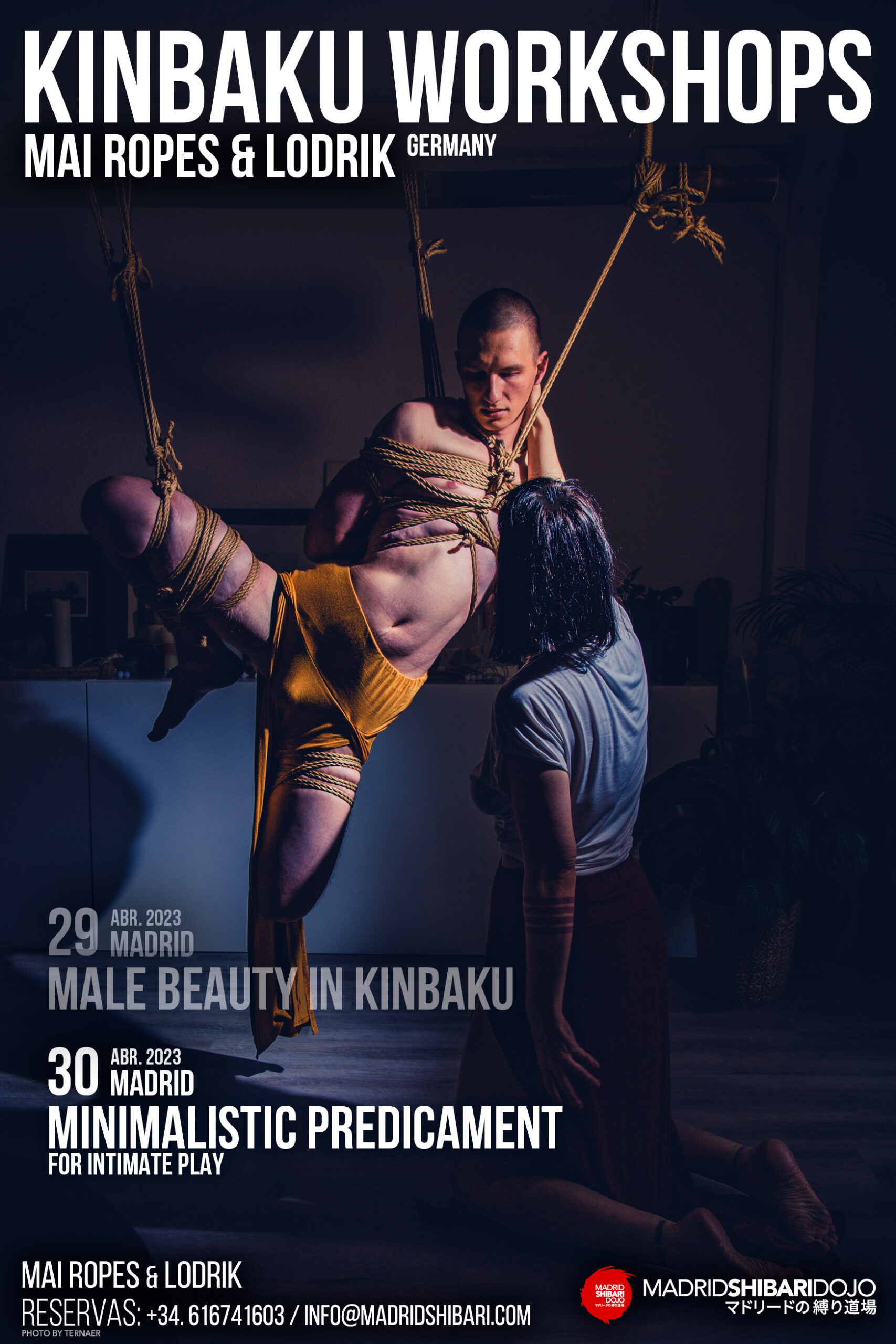 Detalles del evento
domingo | 30 abril, 2023
10:00 - 18:30
Madrid Shibari Dojo. Barrio Aeropuerto (Madrid)
+34 616741603
7 parejas

Asistentes

Mail & Lodrik +Zor & Margout

Formadores
Anunciamos el primer workshop de Mai Ropes y Lodrik en España. Este curso se dará en Inglés. Los asistentes tienen incluida con la plaza el acceso al performance
del viernes.
Minimalistic predicament for intimate play
"Stuck between a rock and a hard place", this workshop is all about making the model squirm using just a few ropes.
Often in Shibari/Kinbaku there is a focus on beauty and grace, this workshop is less about achieving specific shapes or aesthetics, it's all about challenging the model by making them choose between different types of discomfort.
Description
First, we will talk about what a predicament is, define the purpose, as well as components and look at the difference between predicament and torture.  During this part we will also cover aspects of rope safety relevant to this workshop.Going on, we will create minimalistic predicaments with an upper body harness as a base to build various kinds of discomfort for the model.
Starting from floor exercises, we will explore partials and upright positions without ever fully going into suspension. Furthermore, we will look at several ways of dealing with predicament bondage from the model's perspective and show different approaches to cope with the mental and physical strain. Finally, we will give you the space to combine all elements of the workshop to create a unique suffering experience for the model.
---
Requirements:
Riggers: Upper Body Tie of choice (Gote, Takate-Kote, similar ties), Upline management for partials/upright positions, Single & Double Column Tie.
Models: Body and self-awareness, clear communication about mental and bodily limits.
---
Date: 30 April 2023.
Location: Madrid Shibari Dojo. Barrio Rejas, Madrid.
Spots: 7 tying couples
Price: Consult the organization. MadridShibari students have a discount on the official price. Price includes access to their performance on Friday.
Duration: From 10:00 am to 6:30 pm with a one-hour lunch break at noon. Breaks when necessary.
Language: English
---
About the presenters:
Mai 
Mai started dabbling with tying in 2016 but sees her introduction to Naka Ryu through Riccardo Wildties in early 2019 to be the pivot point in her tying journey. She deeply resonates with the style's underlying tones of turmoil, suffering and submission through «the art of tight binding» and dedicated herself to further explore those topics.
Contrary to the usual setting of «male rigger, female bottom» she is focused on tying men and draws further inspiration from Europe's rich artistic depictions of torture, sacrifice, martyrdom and suffering always on the search for the twisted beauty in darkness.
IG: @mai.ropes
Lodrik
Lodrik has been a metal bondage fetishist from an early age on. He sees rope bondage as a practice to experience D/s dynamics and explore erotic suffering through a unique way of submission. Sharing his rope journey with Mai since 2018, he is constantly looking to learn and experiment with less traditional expressions of his masculinity.
IG: @lodrik_