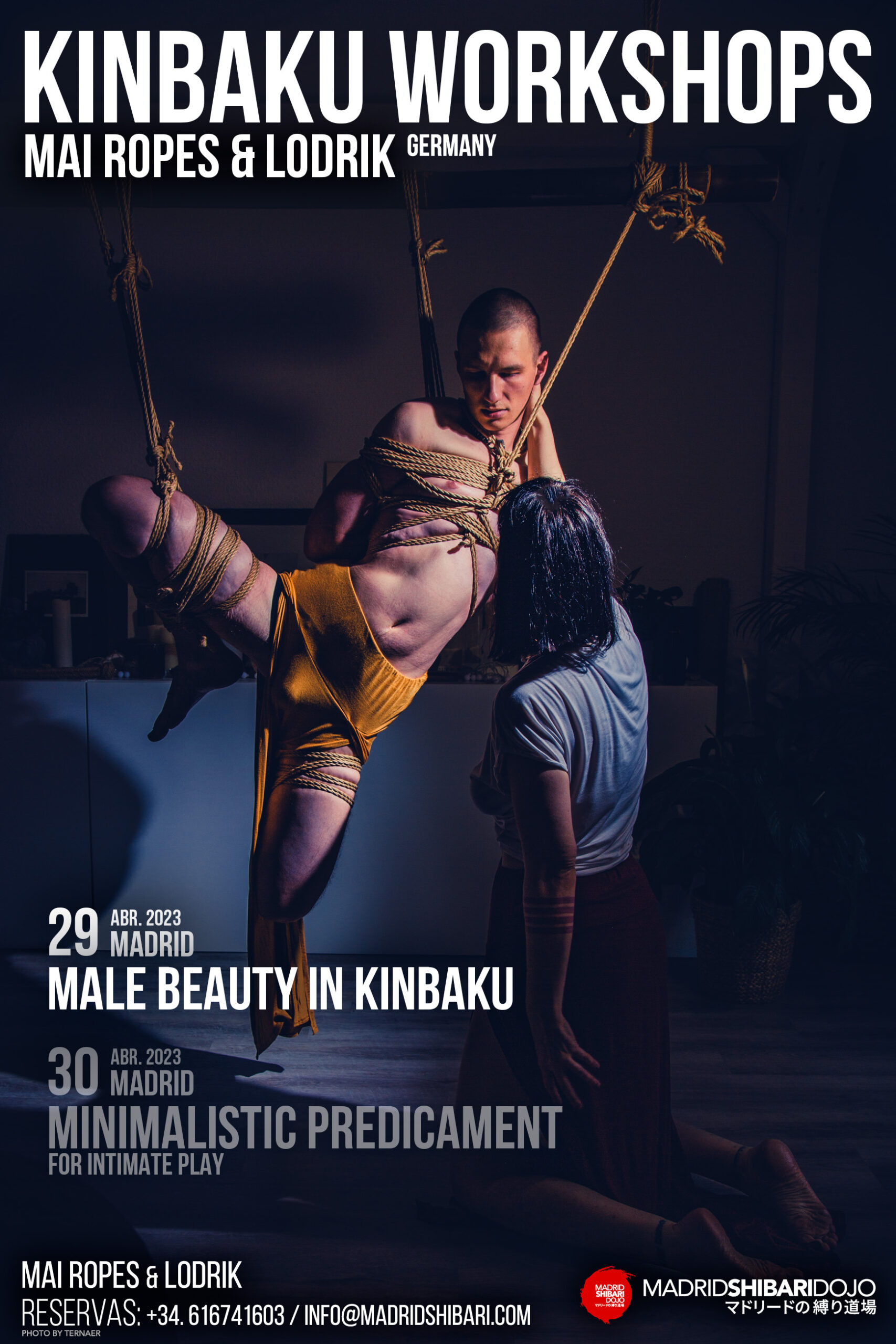 Detalles del evento
sábado | 29 abril, 2023
10:00 - 18:30
Madrid Shibari Dojo. Barrio Aeropuerto (Madrid)
+34 616741603
7 pairs / 7 parejas

Asistentes

Mail & Lodrik +Zor & Margout

Formadores
Anunciamos el primer workshop de Mai Ropes y Lodrik en España, dedicado a atar el cuerpo masculino. Este curso se dará en Inglés. Los asistentes tienen incluida con la plaza el acceso al Performance del viernes.
Male beauty in Kinbaku
«Men can't be beautiful in ropes» is something frequently heard when the topic of men in bondage comes up, specifically when talking about Kinbaku. Most styles of Japanese Bondage/Kinbaku cater to a specific gender and body type to be enhanced and highlighted in a s distinct way – to be made beautiful. Tying men comes with a set of unique challenges reaching from anatomy, physics, body handling to aesthetics. In our approach to «Naka-Style/Luxuria Style» as taught by Riccardo Wildties we focus on submission, devotion, suffering and sacrifice while bringing out the inner beauty of the male model.
Description:
The workshop will give an insight on our specific approach to find expressions of masculine beauty based in Kinbaku and cover solutions for common obstacles that might occur when tying men.
This includes a dive into specifics of the male anatomy, workflows concerning physical challenges for the rigger and approaches to body handling and «in-tie interactions». We will also dedicate time to looking at and exploring more classic positions of Kinbaku as well as giving you the opportunity of adapting them to discover the unique beauty of the masculine form. Further we will take some time to dive into the mindset behind male bottoming in ropes.
Together will discuss gender roles, deconstruct traditional standards of masculinity, and find ways and facets of male submission and beauty in ropes. We want to encourage the models to find their own approach of expressing and experiencing this particular interpretation of Kinbaku.
This workshop is for:
Tying couples (all ages with a male bottom) who have some experience with Japanese Bondage/Kinbaku (solid knowledge of a Takate Kote or Gote of choice; basic harnesses and first steps into suspension) wanting to step outside of the usual norms and learn about technical and anatomical specifics in tying men.
Through different exercises we will also give you an insight in our way of viewing the male body in rope and give you the inspiration as well as the tools to discover your own way of searching for and discovering the underlying beauty in your partner and yourself.
---
Requirements:
We will explore male beauty in kinbaku so all rope bottoms should identify as male/masc. Riggers can be any gender.
A minimum set of 8-10 regular length jute ropes. A couple of shorter ropes (4m and 2m) are recommended.
Riggers should know how to tie on bamboo / wooden beam fluently.
Riggers should be able to tie a solid gote / takate kote and have experience with basic suspensions.
Bottoms should be able to communicate good feedback and have experience in suspension.
Bottoms should be open to explore different aspects of their masculinity.
---
Date: 29 April 2023.
Location: Madrid Shibari Dojo. Barrio Rejas, Madrid.
Spots: 7 tying couples
Price: Consult the organization. MadridShibari students have a discount on the official price. Price includes access to their performance on Friday.
Duration: From 10:00 am to 6:30 pm with a one-hour lunch break at noon. Breaks when necessary.
Language: English
---
About the presenters:
Mai 
Mai started dabbling with tying in 2016 but sees her introduction to Naka Ryu through Riccardo Wildties in early 2019 to be the pivot point in her tying journey. She deeply resonates with the style's underlying tones of turmoil, suffering and submission through «the art of tight binding» and dedicated herself to further explore those topics.
Contrary to the usual setting of «male rigger, female bottom» she is focused on tying men and draws further inspiration from Europe's rich artistic depictions of torture, sacrifice, martyrdom and suffering always on the search for the twisted beauty in darkness.
IG: @mai.ropes
Lodrik
Lodrik has been a metal bondage fetishist from an early age on. He sees rope bondage as a practice to experience D/s dynamics and explore erotic suffering through a unique way of submission. Sharing his rope journey with Mai since 2018, he is constantly looking to learn and experiment with less traditional expressions of his masculinity.
IG: @lodrik_