Last weekend was very intense. Very intense. We woke up on Monday with a million aches and bruises and the endorphins coming out of our mouths... And that's because Riccardo Wildties and Red Sabbath (Italy) visited us for the first time in Madrid to give a 3-day advanced workshop to introduce Naka Ryu and do a wonderful performance. 🙂
Riccardo is surely one of the Westerners with the most knowledge and technique in kinbaku that exists. In addition, he has been training for years as a deshi of Akira Naka and adapting his Semenawa style in a safer way. We were very inspired to share these days with him and his partner Red Sabbath (and incredible model <3) both inside and outside the workshop. Riccardo is also a great teacher, so we have acquired a lot of knowledge that we are going to have to process for a long time.
This was the first block of a series of three levels created by Riccardo and Red Sabbath of introduction in the style of Akira Naka. His style is harsh, seeks to capture the beauty of suffering and torment and for this takes the body of the person tied to stressful positions and uses the time to generate more discomfort. Its aesthetics are characterized by torsions, backbends and compressions and lines as clean as possible to highlight not the rope but the body. During the workshop there were groans, blows, tremors and tears that resounded throughout the room (including mine!). In such a technically and emotionally demanding workshop for both riggers and models it shows up how much knowledge the riggers have of the body of their models and how much real trust exists between both parts. As a model you need a huge confidence to face complex ties that take you beyond your mental limits and continuously out of your comfort zone and of course confidence to feel safe physically in the ropes of the other person without fear. This is one of the reasons why I'm so in love with this style, it's not about creating acrobatic positions or complex patterns but, as Riccardo said, climbing a mountain together. That's why this wokshop has been one of the most intense for me both physically and emotionally and I feel much more attached to Zor than before. 🙂
We picked up Riccardo and Red Sabbath at the airport on Thursday night and went to a wonderful place for dinner, so we got to know them better and relaxed before the workshop. We had Spansul as translator during the workshop, who is one of the people with the most theoretical knowledge of Shibari in Spain, who did the whole workshop's translation to Spanish and we are very grateful to him for it. We started on Friday with Naka's takate kote and some basic figures that, with small adjustments, allowed us to create incredible torsions that are very classic of his style. The best of all is that each couple got with the same exercises to create different aesthetics and superb dynamics.
That same night they were going to do their performance. So while they were eating dinner and getting ready we reorganized the space, set up the spotlights, set up a stage and turned off the lights. An hour before the performance the audience began to fill the room and sit around, they looked curious and excited. Then they both went on stage and put on a show that left everyone speechless. With few transitions, no acrobatics, with a very classic rope style, they made us present of their torment and suffering with a beauty that is hard to forget. They have a connection that can only be achieved after years and years of work and love, and we thank them a lot for agreeing to perform their intimate show for us.
On Saturday Red Sabbath encouraged us to do a series of specific warm-up exercises for Shibari. They were super good to activate the body and prepare it for the rather hard exercises that we would do that day. She also gave us some super-valuable pain management tips on Semenawa that I hope to be able to translate soon! Receiving model-oriented information is something I highly value in a workshop and it's so forgotten... And coming from a professional model like her I appreciate it even more. Another thing that I found interesting that day was that we did an exercise just to provoke emotions, build mindsets and work with timing without needing to lift the model's ass off the floor. Super important aspects in Naka's style that will help us to have better rope sessions with the magical "do less, say more".
We finished the day in the best possible way having dinner in a barbecue restaurant with Riccardo and Red Sabbath among many laughs and anecdotes.
On Sunday riggers and models were destroyed after two days of advanced transitions and Semenawa... That's why we did a little warm-up again to activate. The first exercise was already very intense and we achieved quite complex and dynamic transitions. It was great to see the evolution of people from the first day to that, they looked despite the tiredness much more enthusiastic and confident than before. Seeing for example our student Claudia, who has only been tying up for a year and a half, making beautiful transitions in a fluid and safe way was something that filled me with love. <3 Then we did a gyaku ebi that was surely the hardest exercise of the whole workshop... I love it, I think it's wonderful and intense but I knew it would be a huge challenge for me because my back is not very flexible. But I am proud of the results we achieved and how much I can rely on my rigger to find the balance between "I can go a little further with you" or "this is my limit". 🙂 The workshop was even more enjoyable than usual because in the Madrid's Shibari community we are all friends, we don't have egos and we get along great so the atmosphere helped to relax and get carried away more easily.
To finish Riccardo proposed a "simple exercise so that the models can rest" because we were already all dead. And in fact half of them obviously couldn't do it anymore because they were too tired. So I don't know very well how I ended up in at least 10 transitions with torsions, backbends and compressions of all kinds, with a rock hanging from my leg and half naked in the middle of the workshop breaking in tears and laughs but Zor and I had a great time and it was a perfect close for the workshop! When we finished we ran to take them back to the airport for their return to Italy. We will miss our dinners and we are very happy to have been able to get to know them better.
Finally, we want to thank you for all your dedication, teachings, patience, inspiration and effort to bring here this style you love. You are more than invited to Madrid whenever you want, our rope community will welcome you with open arms. See you soon!
Margot 🙂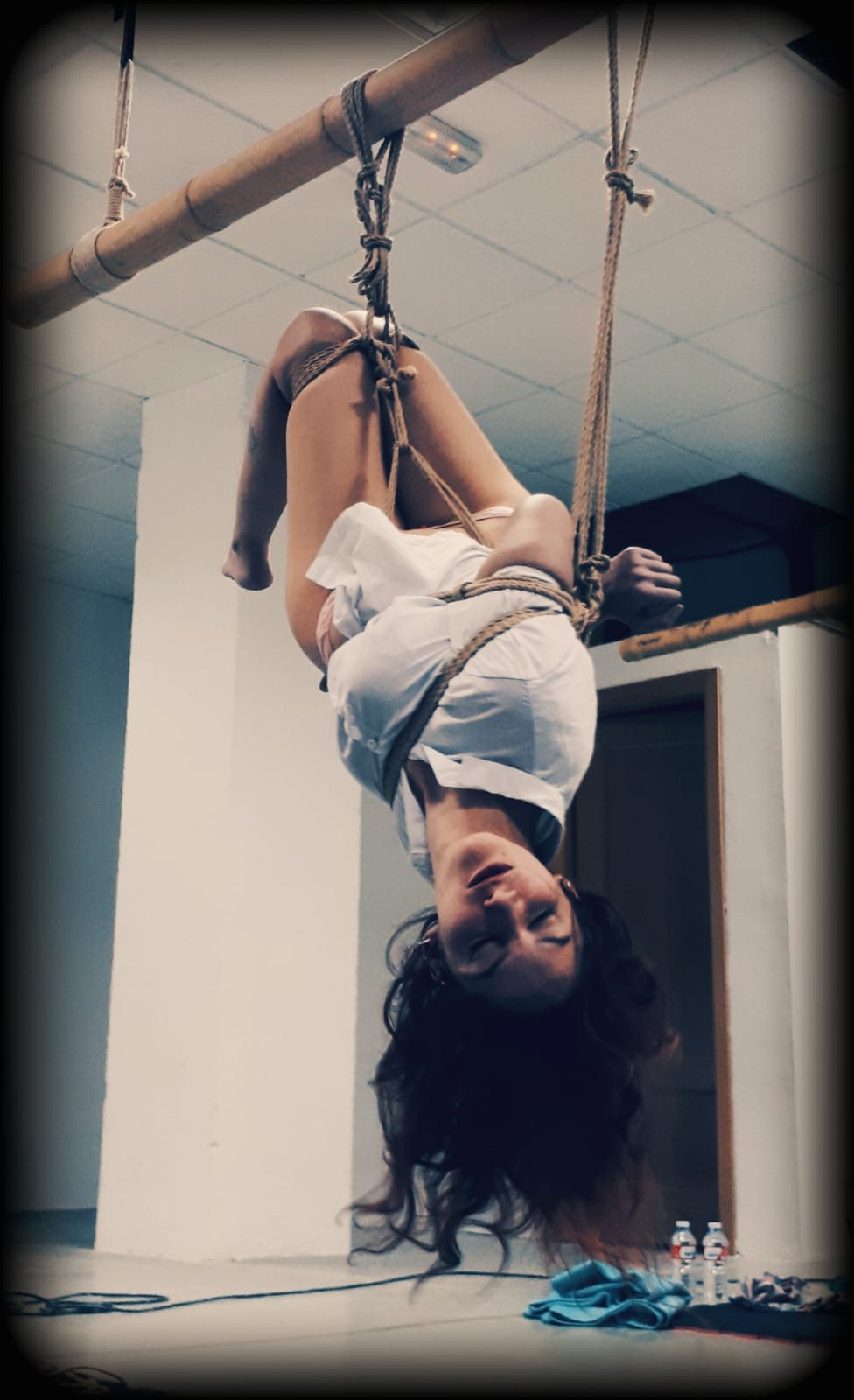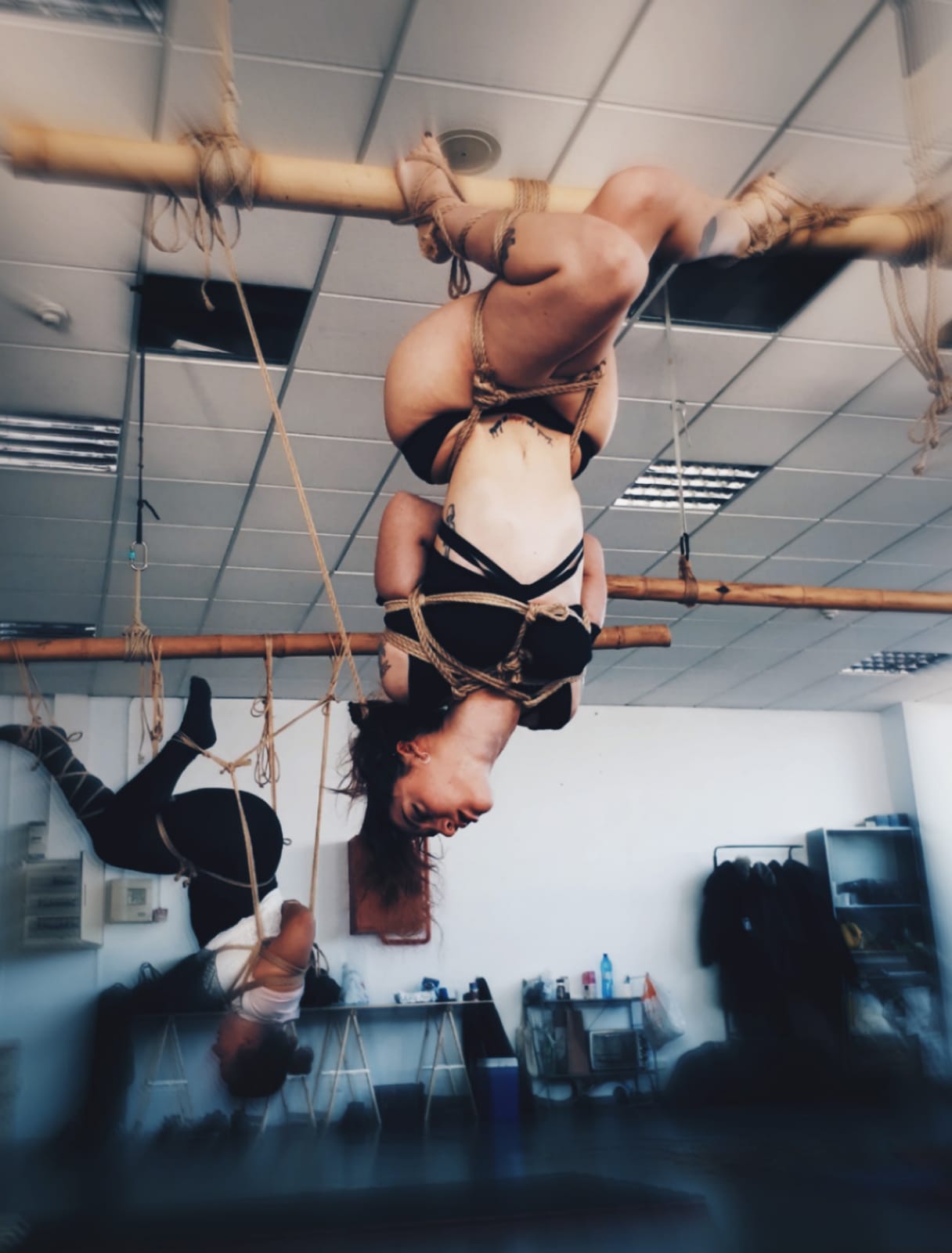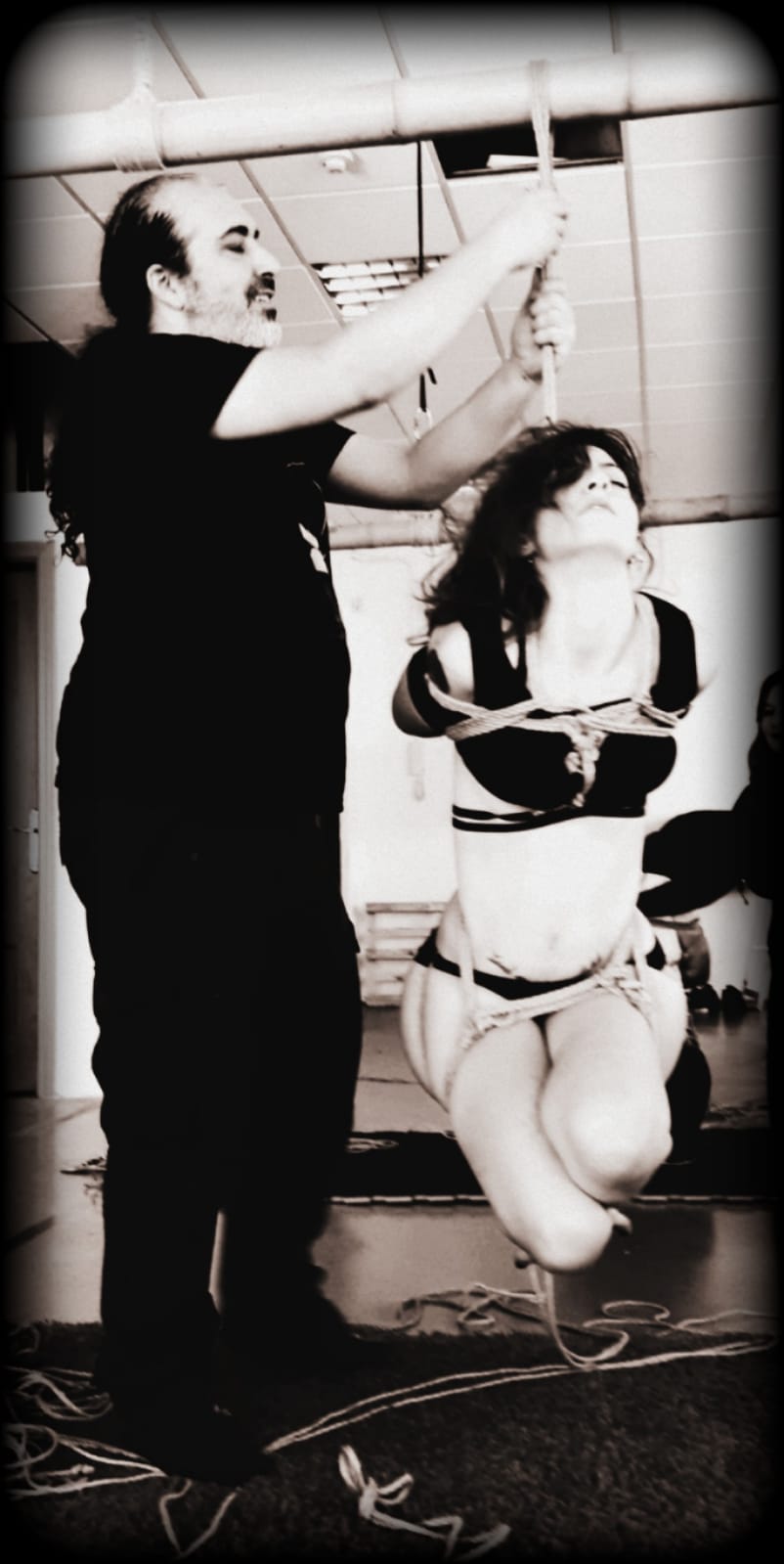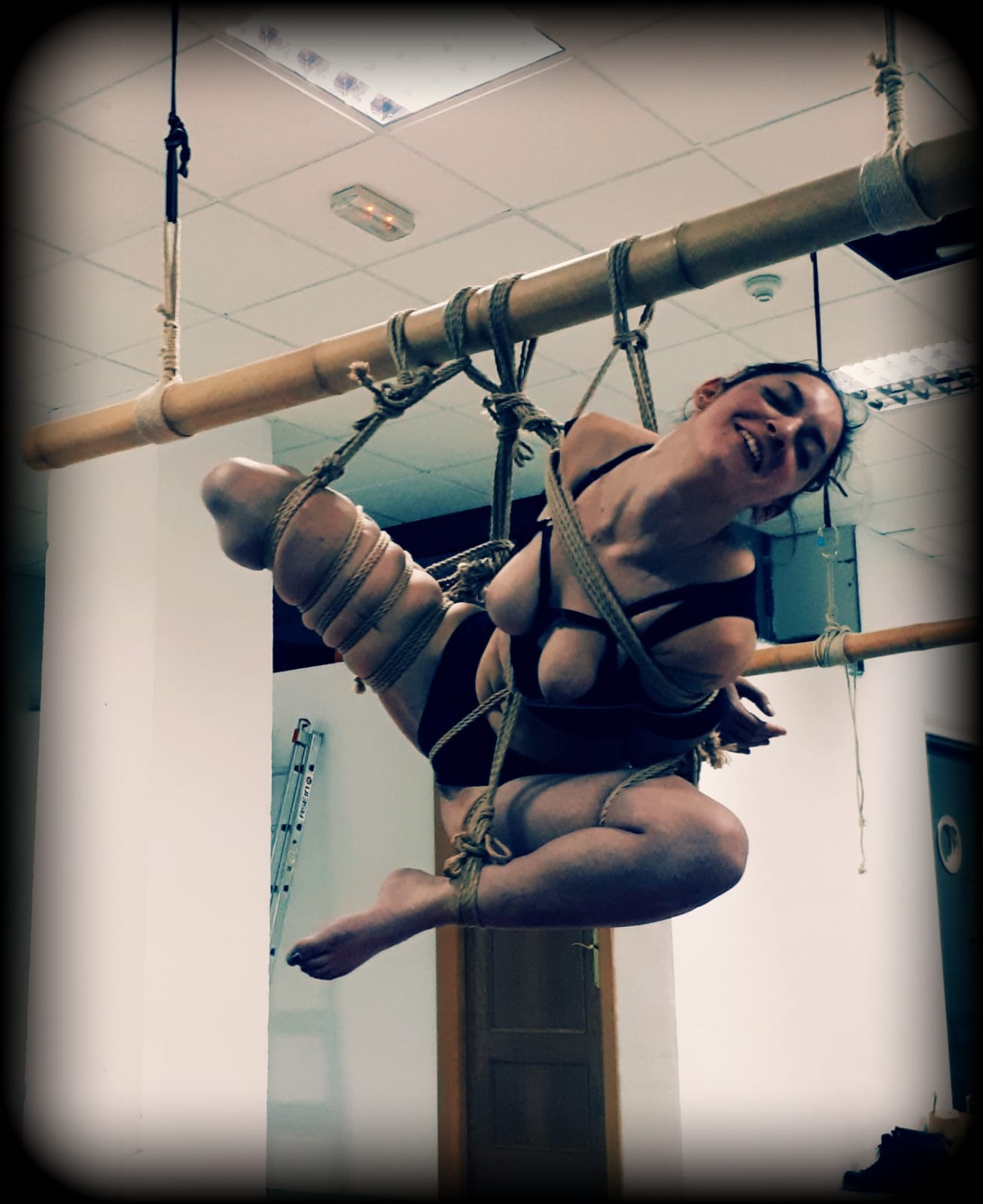 Esta entrada también está disponible en: Spanish