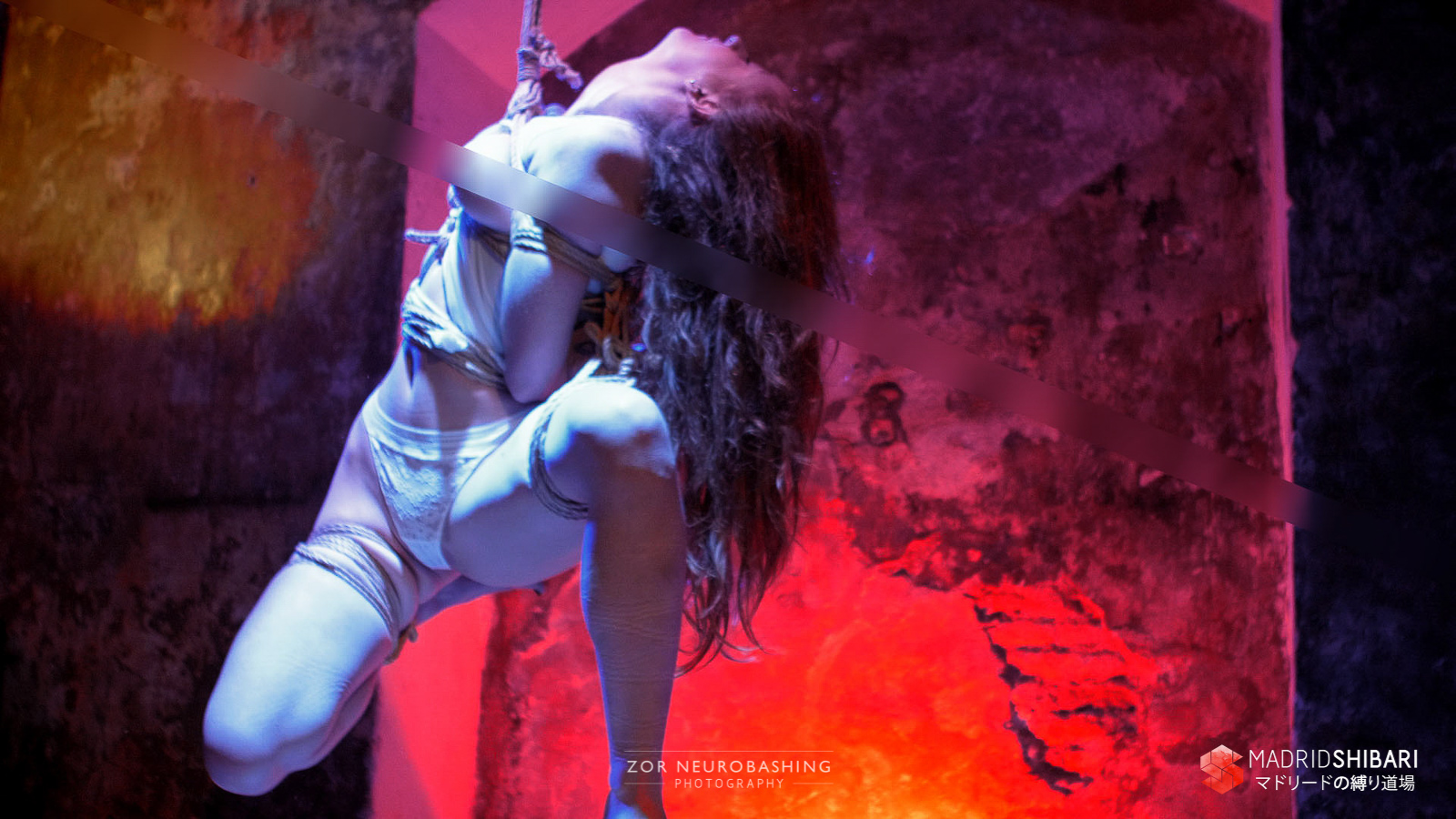 We have spent a dream weekend full of suffering, evil smiles and bamboos. And it's because Peter Soptik and Eis Eva have visited us for the first time in Madrid, and Spain in general, for an advanced workshop of 2 days and a wonderful performance.
We picked them up on Thursday's noon at Barajas airport and went directly to the city center to drop off their luggage and to eat together. During the afternoon, we went to the place where the performance was going to take place the next day to prepare the space, the stage and the lights.
On Friday the big event came: the performing night. We went a couple of hours before to prepare the chairs, the ticket lists and the drinks service. At 20:45 we opened the doors and people started to enter, suddenly the place was completely filled up. It was amazing the expectation and curiosity of the public, and not only attended by locals but we also had an audience from all over Spain. At 9:00 pm and after a brief introduction we made about Shibari, the first performance of the night began with Antonio Shibarita and Willow. They did a beautiful shibari performance about the different stages of life from birth to death. They mixed dance, music and theatricality with elements of the more traditional shibari and moved us with their catharsis. When they finished we made a 15 minute break so the audience could think about the performance, talk and have a drink and we had time to prepare the next one. At 10pm it was the turn of our special guests from the Czech Republic: Peter Soptik and Eva. We entered fully into the world of semenawa, suffering and complete surrender to the other. It is difficult to describe someone who has never seen them tying what is perceived when you see them, even for people with a lot of experience in ropes it is technically and emotionally far above any previous expectation. And sometimes their performance may even seem extreme but it always comes from consensus, security, trust and mutual care. We can not be more grateful that they agreed to act in our space. At the end, after a open rope jam of a couple of hours, we cleaned, and we put the suspension points, blankets and some water bottles for the weekend workshop. 
On Saturday we started the workshop on time at 10: 00h. The first lesson of the day was to learn to place a bamboo in the safest and most practical way possible. The first day of the workshop was dedicated to advanced transitions in bamboo. Peter and Eva showed us certain ways that we had to recreate with our own style and transitions and, although they were especially oriented to Naka-ryu and semenawa, they gave us free rein to creativity and to use the patterns with which we felt more comfortable. We were given advice to find solutions to the problems that were presented to us and taught us to have greater control over time and distance. Thanks to them we were able to build wonderful transitions and be patient to focus much more on the person with whom we do ropes.
Sunday was oriented to semenawa and predicaments. We started the morning with exercises oriented to semenawa, one in suspension with a waist harness and another one of floorwork and partial suspensions. We had a lot of time to play, experiment, provoke emotions and create, elements that we sometimes set aside to learn patterns again and again and are essential in Shibari. We also learned a lot about pain management, surrender and communication and that gave us the background to extend semenawa sessions for longer. During the afternoon we focused on predicaments or those difficult "situations" that bother or present a challenge to the person tied to which this person must go by choosing for themself. It was extremely fun and all the attendees enjoyed the exercises of predicaments we did in which we incorporated elements such as fear and other elements besides the ropes. Everyone became very involved and quickly captured the essence of predicaments thanks to Peter's tireless inspiration.
We want to thank you, Peter and Eva, for all your dedication, knowledge, patience, inspiration and effort to open a new world to the Spanish rope community. We will never be able to thank you enough for all we have learned thanks to you, it has been a great honor to spend this special time with you.
Esta entrada también está disponible en: Spanish